EcoTest easy MRL
Why a rapid inhibitor test?
The EcoTest easy MRL is a precise, cost-effective, simple and quickly applied rapid inhibitor test.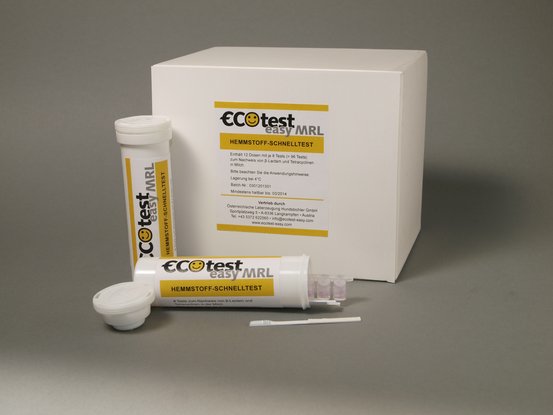 Every producer of milk products knows the problem. The administration of medications means that for a particular period, the milk cannot be delivered to the dairy.
To be on the safe side, the waiting periods given by the veterinarians are, therefore, generous.
Sometimes, the medications can no longer be detected in the milk some days before the end of these periods.
Therefore, the farmer incurs a financial loss, if the actually good milk cannot be delivered to the dairy.
With the rapid test EcoTest easy MRL, it is quick and easy to determine whether there are antibiotic residues present in the milk.
How does the EcoTest easy MRL work?
The EcoTest easy MRL works really easily with cow, sheep or goat milk, without an incubator or long waiting times and at every milk temperature.
| | |
| --- | --- |
| | Milk the sample |
| | Remove the milk with the pipette and drop it into the test tube |
| | Place the test strips in the test tube and wait 5 - 6 minutes |
| | Check the test strips |
After a few minutes it can be seen whether the milk can be delivered to the dairy or not.
You can find detailed instructions in the download area on the right.
Advantages when compared with other antibiotic tests
Cost-effective
Fast
No incubator is required
Can be used directly in the stable or milking parlour
Reliable
Can be used for cow, goat, or sheep milk, as well as tank milk
Where can you get the EcoTest easy MRL?
You can get the EcoTest easy MRL from your vet or the distribution partner for your country.
Downloads